Globish the World Over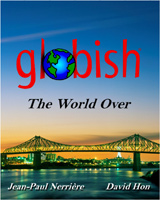 .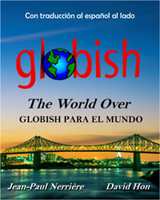 .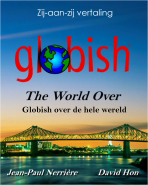 ...
Globish the World Over is available in a number of different languages.
(Dutch, Spanish,  Hungarian, Japanese, Russian, ... and Hindi soon! More transalations are welcome - contact us if you can help.)
Globish the World Over is the main book that explains Globish, why it is important, and how to use it.
International Globish Certification Test
The Globish Foundation is beta testing its International Globish Certification Test through its Affiliates, and will be working with Japan Globish Institute for that purpose. The test will be given completely in Globish, in exactly the same manner for all international students of Globish. Students passing the test will be able to operate at the B-1 and B-2 levels of language behavior, as dictated by the Council of Europe's Framework of Reference for languages. The originator of this unique test is David Hon, who was invited to be a TED speaker regarding his breakthrough concepts on other kinds of standardized testing, in computerized surgical simulation and tests which used tactile graphics and other realistic contexts.
Try out a preview of the test now!
Note: the test does not work properly in IE8 becuse IE8 is not compliant with the browser standards. Other free browsers are OK.
Prestige Books for Globish in Russia
Last Updated on Sunday, 22 January 2012 12:32 Written by Administrator Sunday, 22 January 2012 12:28
Prestige Books in Moscow will release Globish IN Globish in a side-by-side, book/CD combination. Globish IN Globish has been a consistent online course in Globish with 1000 linked pages of interactive learning on computers or mobiles, but has never been made into either a book or companion CD Audio. This version of GNG is being edited by Dr. Alexander Lapitsky, a famous linguist in Russia who has written and been editor of over 30 books and dictionaries regarding 10 different languages.
Talk Globish - in Brazil
Last Updated on Monday, 23 January 2012 07:38 Written by Administrator Sunday, 22 January 2012 12:15

FaleGlobish ("Talk Globish") in Brazil is a new franchising company created by the Artur Hipolito, the highly successful president of Wizard Language Centers in Sao Paulo, which he grew to 1000 franchises in Brazil. Wizard was thought to be the world's largest language franchiser during the early 2000s.  FaleGlobish  student and teacher materials will be written totally in Globish , covering every day of a 6-month course, and will be available during the first part of 2012 for Japanese use as well.
More Articles...
Page 1 of 2